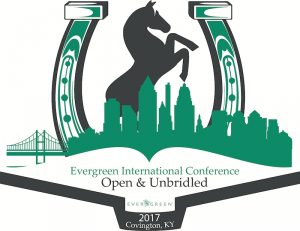 Conference Quick Links
---
A special thank you to our first time exhibitors!
Exhibit space is still available!
The 2017 Evergreen Conference is accepting reservations for exhibit space.  Requests for information and completed exhibitor forms can be emailed to sponsors@list.evergreen-ils.org.
The Conference will be held at the Marriott Cincinnati RiverCenter in Covington, KY April 5th-8th.
Our centrally located exhibits area provides constant contact with our attendees.  Our exhibitors are also welcome to attend our meals, breaks, sessions, and entertainment opportunities.  Overall, there will be 20 hours of exhibit time available, with two sessions per day scheduled as exclusive exhibitor time.  We are planning another great year for conversations and connections in the exhibit area.  Please don't forget to look at our sponsorship opportunities for more chances to showcase your organization!
We would like to thank our returning exhibitors!
 Exhibitor Pricing and Information
Booth Pricing $875
Exhibit booth purchase includes one registration. Additional early bird registrations are available at $220 per attendee (until 2/1/2017) Additional standard registrations are available at $250 per attendee (after 2/1/2017).  Registration is managed through EventBrite.
Exhibit Times
Wednesday noon-8pm (setup)
Thursday 8am-5pm (exhibit hours)
Friday 8am-5pm (exhibit hours)
Saturday 8am-1pm (tear down)
Included with your registration
Approximately 8'x5' booth area with carpet
Wireless internet access
One (1) 6-foot draped/skirted table
Two (2) folding chairs
One (1) standard electrical power strip
All booth assignments will be on a first come, first served basis.  Payment in full must be received no later than 30 days after form is received by the Conference or by 30 days prior to the event date, whichever comes first.  Additional tables, chairs, supplies, or services must be requested 30 days in advance by emailing sponsors@evergreen-ils.org.  Additional costs may apply.
Shipping and Set Up / Tear Down Information
Location:  Cincinnati Marriott at RiverCenter
10 West RiverCenter Boulevard   Covington, Kentucky 41011 USA
Shipping info coming soon