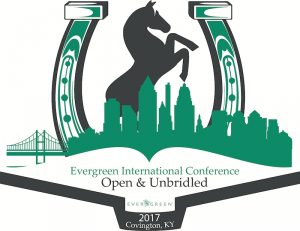 Conference Quick Links
---
The 2017 Evergreen International Conference will be held at the Marriott Cincinnati RiverCenter in Covington, KY April 5th-8th.
The host organizations for the conference are Asbury Theological Seminary, Asbury University, Consortium of Ohio Libraries, Evergreen Indiana, and Kenton County Public Library.
---
News
Dec 7     Conference registration is now available.  Registration is available for pre-conferences, single day, and full conference.
Nov 28  Sponsorship information is now available – please see our Sponsors page for more information.
Nov 28  Hotel Registration is now available – please use this link for the discount pricing of $138 per night.
Nov 3     Pre-conference submissions are now being accepted for 3 hour sessions.
Selected presenters will be offered complimentary conference registration. Pre-conference proposals are recorded as they are received.
Please submit proposals to eg-conf-programs@list.evergreen-ils.org on or before December 8, 2016.